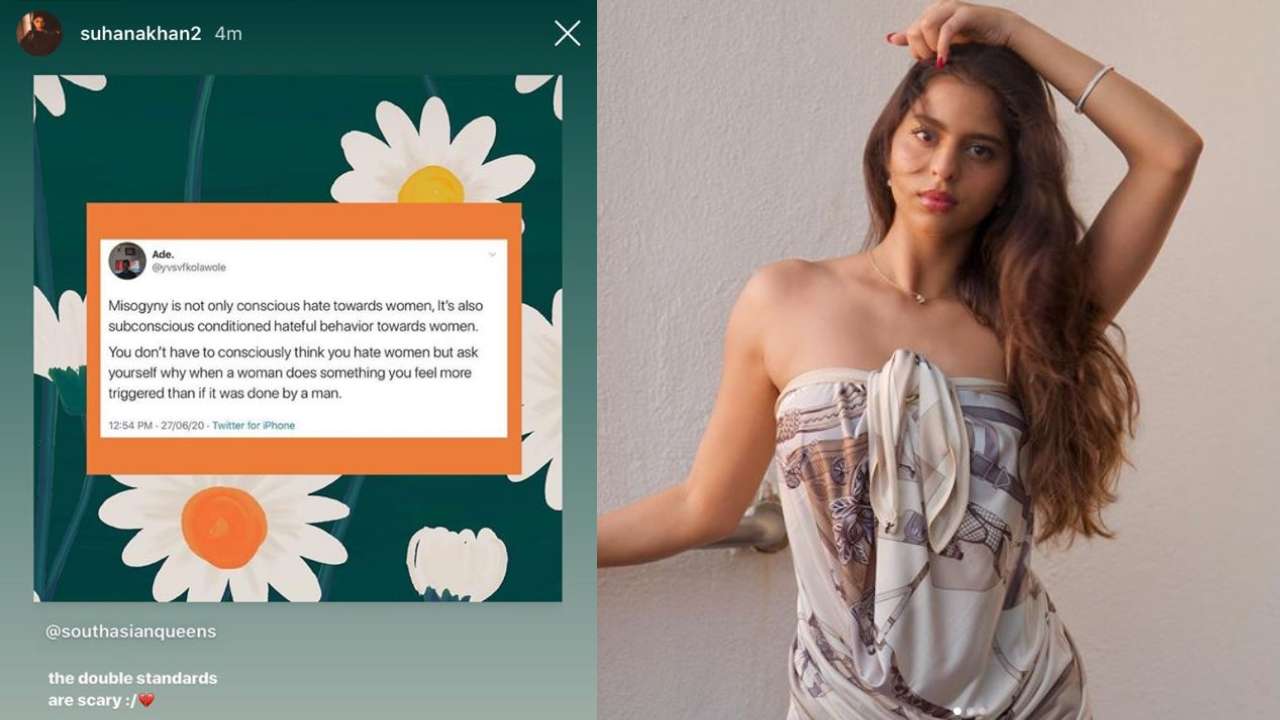 Bollywood superstar Shah Rukh Khan and producer-entrepreneur Gauri Khan's daughter Suhana Khan has often made headlines for her stylish appearances and stunning Instagram pictures.
On Thursday, Suhana took to her Instagram handle to put out a cryptic message on her stories, talking about 'misogyny' and 'conditioned hateful behaviour towards women'.
Sharing a tweet by a social media user, Suhana wrote, 'the double standards are scary'. She followed it with a broken heart emoji.
The tweet read, "Misogyny is not only conscious hate towards women, it's also subconscious conditioned hateful behavior towards women. You don't have to consciously think you hate women but ask yourself why when a woman does something you feel more triggered than if it was done by a man."
The post, which has come at a time when several film industry actresses including Deepika Padukone, Sara Ali Khan, Rakulpreet Singh among others are under Narcotics Control Bureau's radar for alleged involvement in drugs case being probed as part of investigations in Sushant Singh Rajput death case.
And while these actresses have been summoned by the NCB, many have raised questions as to why only names of female stars are being 'exposed' and there's no mention of male actors.
Suhana's post also hints at the same in a way.
Earlier, actress-turned-politician Mimi Chakraborty, on Tuesday took to her verified Twitter handle to share her opinion on the alleged Bollywood-drugs nexus that is currently being probed by the NCB. A TMC leader and Member of Parliament from West Bengal's Jadavpur constituency, Mimi had a sarcastic take on the matter after several B-town actresses were summoned by the NCB.
Talking about how 'patriarchy women' in Bollywood are being named in the drugs-related case with no mention of male actors by the federal investigating agency, she wrote that the men in the industry only 'cook and clean and pray for their better half'.
Mimi wrote on Twitter, "Yes patriarchy Women in bollywood go for Hash nd drugs or whatever nd men in bollywood cook nd clean nd pray for their better half wit joined hands nd tears in eye "Bhagwan unki raksha karna" (sic)."
Before her, Indian film actress and Member of Parliament from Amravati, Maharashtra, Navaneet Kaur Rana had also raised questions regarding the drugs investigation.
Rana asked why only are female stars were being 'exposed' and the names of male actors was being kept hidden. She also asked if the Narcotics Control Bureau (NCB), who is investigating the case, was not not revealing the names of male stars because of their stature.